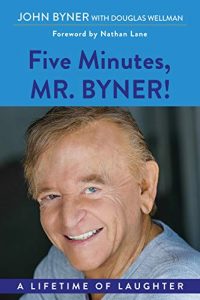 Five Minutes, Mr Byner release date has been delayed to August 2020 due to the coronavirus pandemic. The audio book will still be released June 1, 2020. Stay tuned here for updates.
The new book from John Byner is now available via Amazon and Barnes and Noble. Five Minutes, Mr. Byner: A Lifetime of Laughter, a memoir of the legendary career of one of America's finest entertainers, recaptures the amazing experiences from a point of view from the Hollywood insider.
John Byner is a man of many voices and characters, from impersonating the slow, rolling gait and speech of John Wayne, to lending his voice to The Ant and the Aardvark cartoons. His dead-on impersonations, as well as his unique talents as a character actor, have put him on the small screen in peoples' homes, the big screen in theaters, and no screen on Broadway.
Growing up in a big family on Long Island, John discovered his uncanny ability to mimic voices as a child when he returned home from a Bing Crosby movie and repeated Bing's performance for his family in their living room. He discovered his talent made him the focus of everyone's attention, and allowed him to make friends wherever he went, from elementary school to the U.S. Navy.
John started his career in nightclubs in New York, but soon found himself getting national acclaim on The Ed Sullivan Show. With that he was on his way. This memoir is the best and funniest moments of his life, career, and relationships with some of the biggest names in entertainment, both on and off the screen.
Now available for order via Apple Books, Amazon and Barnes and Noble